Less than a quarter of RNs in the US feel safe working at their facility
by
Valerie Dimond
, Contributing Reporter | July 29, 2020
Business Affairs
Risk Management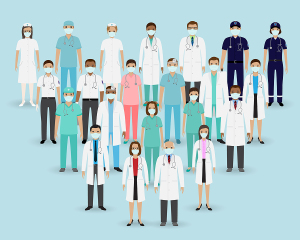 As the U.S. continues to reopen, a national survey reveals a majority of nurses are still re-using PPE, are understaffed, and working in unsafe conditions.

National Nurses United (NNU) has released a new survey of more than 21,000 nurses, with 43% saying they are afraid of infecting their families with COVID-⁠19 because their facilities aren't safe. As states across the U.S. reopen, a dearth of personal protective equipment (PPE) — most nurses continue to reuse what they have — lack of testing among staff and patients, and few dedicated COVID-19 units are still common.

Repeated use of single-use PPE increases exposure of the infection to nurses, patients, and other hospital staff, yet 87% of those surveyed admit to reusing single-⁠use N95 respirators and face shields because they have no choice. Only 9% say they do not have to reuse single-⁠use PPE.

Also, the decontamination of single-⁠use PPE is increasing, with 54% percent of nurses working in hospitals saying that their employer has implemented a program to "clean" single-⁠use N95 respirators between uses, which has not been proven to be safe or effective. The NNU says if a facility reprocesses PPE, the FDA requires notification as part of the authorization for these systems to be used in healthcare settings. Only 12% of hospital nurses were notified by their employer of the risks associated with using so-⁠called decontaminated PPE.

"Healthcare employers' use of unproven 'decontamination' systems means they are experimenting on their employees without consent," the NNU stated.

Meanwhile, only 23% of nurses say they've been tested for the disease despite the fact that testing is crucial to reducing its spread.

"Nurses warned about reopening too early, and now this survey shows that nurses are bearing the brunt of premature relaxing of shelter-⁠in-⁠place orders," said NNU executive director Bonnie Castillo, RN, in a news release, adding that more than 165 nurses have died from COVID-19. "One of the only agreed-⁠upon criteria for reopening has been robust, reliable testing," Castillo added. "Nurses and other healthcare workers must be prioritized for testing. It is a travesty that only a fraction of health care workers have been tested."

The reopening of businesses also means healthcare facilities are treating more patients, with 85% of nurses surveyed saying their workplaces are back to scheduling elective procedures again.

The NNU says healthcare facilities should have designated, separate zones for COVID-⁠19 patients, persons under investigation, and patients for whom COVID-⁠19 has been ruled out. Facilities should be isolating COVID-⁠19 and suspected COVID-⁠19 patients in a negative pressure room. But only 15% of nurses reported that COVID-⁠19 patients were always placed in a negative pressure room, with 18% reporting that sometimes they are.

You Must Be Logged In To Post A Comment
Registration is Free and Easy.
Enjoy the benefits of The World's Leading New & Used Medical Equipment Marketplace.
Register Now!