by
John R. Fischer
, Senior Reporter | February 08, 2021
From the January/February 2021 issue of HealthCare Business News magazine
Whatever your specific job title may be, if you work inside a healthcare facility then the COVID-19 pandemic has probably hit you close to home.
From the heightened risk of infection, to the increased burden of staffing shortages and the emotional strain of showing up every day to the frontlines of a global crisis, strong medical leadership in 2020 was more important than ever.
As the winter surge continues and daily infection rates in the U.S. (at the time of this report) exceed 300,000, HCB News sat down with Atkinson and other healthcare leaders to discuss the ways their organizations are relieving these fears and caring for the safety and well-being of their essential workers.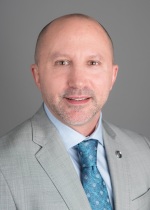 Stressors on the frontline
For David Atkinson, vice president of strategy and transformation in the human resources department at Atrium Health, providing support to physicians and staff throughout this unprecedented pandemic has been invaluable in terms of figuring out how to prepare for surges like the current one.
"A lot of it was just acknowledging the challenges, acknowledging that burnout exists, and that everyone is facing this pandemic in a different way," he said. "Our clinical team faces it one way, whereas our corporate team faces it another way, while being remote and isolated."
One of the largest challenges healthcare workers have faced in recent months is the ramping up of elective procedures that were shut down when the pandemic first arose. These shutdowns created backlogs and led to an influx of returning patients for them to attend to.
"Certainly, the pace of planning for patients back in the practices was significant," said Atkinson. "At the same time responding to their needs while also responding to COVID-19 patients, and with all of the complicated nuances and challenges that both groups presented, has been a challenge."
Shortages with PPE and ICU bed capacity created certain logistical and supply chain headaches, forcing hospital leaders to think outside the box. But staffing shortages represent another type of challenge. Employees across the healthcare system became infected with COVID-19, and many more were justifiably concerned about putting themselves and their loved ones at risk.