From the July 2022 issue of HealthCare Business News magazine
Social media is where many healthcare consumers go to educate themselves about procedures or to find a platform to share negative reviews. Be present on social media sites to provide educational clips, to provide a contact name for patients to ask questions or voice concerns, and to immediately address complaints. Healthcare is second only to hotels and restaurants as the industry with the most-read online reviews. Now do you get why your employees must be prepared to address upset patients on the spot? One of the fastest and most effective ways to market an imaging center is to have excellent reviews that reveal community trust and a great reputation. Encourage patients to share their positive reviews on social media. Some of your most loyal patients are those who had issues that were immediately resolved by the frontline caregiver.
Focus your marketing attention on your local areas. Provide community support to your local areas so that people know you and know that you care about them. Share your personality with your community so that they see faces and kind actions that represent your brand. Share patient, provider, and employee stories, which will help the community connect with you and show what great things you are doing! 80% of your referrals come from 20% of your providers. Keep your top referring physicians and their patients happy!
Ask your referring providers what improvements are needed from your facility. What changes are the providers seeing that you need to be aware of? What are the providers' biggest issues right now? Focus on building relationships and working as a team to improve problem areas. Come up with solutions together to show that you care, not only for their patients but also for them. (This is where that physician liaison will really shine and build relationships!)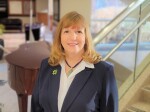 Have you done a SWOT (Strength, Weakness, Opportunity and Threat) analysis recently? If not, do one! Ask the hard questions and then follow through with action plans to make improvements. Work with your referring physicians, your marketing department, your employees. In simple terms, the marketing plan should answer this question, "If this is where we are now and that is where we want to be, what will it take to get there?" Your marketing plan should be operationalized with goals and objectives.
Since healthcare is constantly changing, your marketing plan will need to be adjusted frequently. Keep close tabs on your patients, employees, and providers to identify problem areas and new trends. Adjust your focus when needed. Remember, building great relationships is key in positioning your facility as the market leader.
About the author: Brenda DeBastiani is the director of imaging at Mon Health Medical Center in West Virginia.
Back to HCB News