Healthcare M&A activity in Q1 hit $12.4 billion in transaction revenue
by
John R. Fischer
, Senior Reporter | April 17, 2023
Business Affairs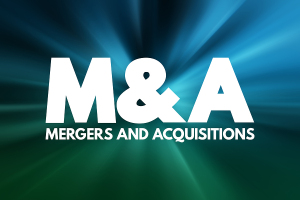 The first quarter of 2023 ended with a near historic high of $12.4 billion in revenue gained from 15 announced mergers and acquisitions, with providers continuing to enter into fewer but larger transactions to remain afloat amidst growing operational and financial pressures, but also begin to look at deals beyond their local and regional borders.

The average size of the seller or smaller party in Q1 was $827 million, just below the historic year-end average of $852 million in 2022. Only one megamerger took place between New Mexico's Presbyterian Health Services and Iowa-based UnityPoint Health, according to Kaufman Hall's M&A Quarterly Activity Report.

The authors of the report say that cross-regional and geographic partnerships like the Presbyterian-UnityPoint deal are becoming increasingly common, as for-profit health systems seek to realign their portfolios and focus more on core markets that offer positive growth potential.

"Strategic-driven partnerships, mergers and acquisitions have resulted in the combining of complementary skill sets, experience bases and intellectual capital of leading organizations that are increasingly less focused on local regional scale and therefore, are less driven by pricing factors," Anu Singh, Kaufman Hall's managing director and leader of the partnerships, mergers and acquisitions practice, told HCB News.

Instead, they are driven by more efficiency needs and capital scarcity into broader and longer enduring strategic collaborations, he says, as increasing micromarket regulatory scrutiny makes expansions more challenging, pushing providers to seek diverse revenue streams for long-term sustainability, and grow beyond their geographic borders to better manage the new "razor-thin" margins they face.

The authors see this as a "new type of post-pandemic activity," in which mid-sized regional hospitals will not only partner with larger organizations to remain financially well off and optimize complementary services, but also use the capabilities and resources of larger health systems to improve local healthcare delivery.

"There are any number of capabilities that can make a health system attractive: health plan expertise, advanced analytical capabilities, service line/segment leadership, innovative care delivery programs, clinical education, experience with value-based care models," said Singh.
You Must Be Logged In To Post A Comment
Registration is Free and Easy.
Enjoy the benefits of The World's Leading New & Used Medical Equipment Marketplace.
Register Now!