by
Loren Bonner
, DOTmed News Online Editor
From the August 2012 issue of DOTmed HealthCare Business News magazine
Banks used to let any private practice doctor borrow money to purchase expensive lasers, which can range upward of $150,000. But those days are gone.
Many medical spas throughout the country have had to shut their doors as a result of expensive upkeep and more frugal consumers, especially in the mid-west regions of the state, according to Hruza.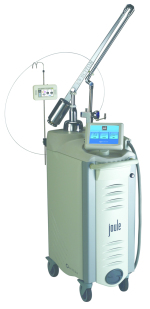 But Sciton's Ruck has seen things improve this year. He attributes this to positive consumer sentiment and banks slowly starting to lend again.
"In 2009 and 2010 the desire was there to buy systems, the ability just didn't exist, he says. "Now that ability is coming back."
Blurring the lines
Experts agree that advances in laser technologies and applications can move beyond making people appear more youthful.
Old carbon dioxide lasers, which have transitioned into fractional CO2 lasers, have been most commonly used for wrinkles and skin rejuvenation. But, as Hruza points out, "In the last couple of years, these lasers [fractionated] have shown improvement for patients with burn scars."
Story Continues Below Advertisement
As a Master Distributor for major brands Barco, Philips, and Sony, we offer custom imaging solutions. With our renowned OEM Solutions and Service/Repair Center, Ampronix is a one-stop shop for HD Medical LCD Displays--Printers--Recorders--4K Cameras
Fibrocell Science Inc. recently received FDA clearance for its LAVIV technology, which uses a person's own fibroblast cells for the improvement of moderate to severe nasolabial fold wrinkles, or smile lines. But it's also investigating LAVIV for the treatment of restrictive burn scars as well as vocal cord scarring.
"Fibrocell Science is continuing to investigate LAVIV for many secondary uses as well as using our proprietary technology to study the potential of dermal cells in the field of personalized, regenerative medicine," says David Pernock, chairman and CEO of Fibrocell Science.
DOTmed Registered DMBN August 2012 - Surgical and Cosmetic Lasers Companies
Names in boldface are Premium Listings.
Domestic
Jim Mousseau, The Laser Network
, CO
David Boegler, DC International LLC
, FL
Sean O'Donnell, Laser Locators
, FL
DOTmed Certified
Shawn Burkey, The Laser Warehouse
, FL
DOTmed Certified
DOTmed 100
Tony Kokjohn, The Laser Agent, Inc
, IN
DOTmed Certified
John Bailey, BMX Medical, Inc.
, MN
DOTmed 100
Alison Fortin, Global Inventory Management LLC
, NH
DOTmed Certified
John Yorke, LaserMedix
, NY
International
Richard Taylor, Med Rich
, United Kingdom
Xiaoyi Zhu, ZHONGJI OPTOELETRONIC CO.
, China
Lachman Aswani, Aswani LaserCraft Pty Ltd
, Australia
David White, Elegant Laser Inc.
, Canada
Jean Marc Poirier, Northern Optotronics Inc
, Canada
Back to HCB News
| | | | |
| --- | --- | --- | --- |
| << | Pages: 1 - 2 - 3 - 4 | | |