by
Loren Bonner
, DOTmed News Online Editor | November 14, 2012
From the November 2012 issue of HealthCare Business News magazine
Carestream's Titus says the company has been trying to build a portfolio of products around the same detector and software over the past few years.
"If a facility invests in our DR equipment, they can then share the detector among a variety of pieces of different equipment to maximize the ROI [return on investment]," she says.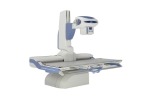 Carestream Health is a leading provider of quality X-ray systems and detectors that are designed to maximize diagnostic confidence, workflow and patient satisfaction. Follow the link above to see our complete portfolio of digital radiography solutions.

Canon followed Carestream's lead in retrofitting analog systems with DR detectors, something it calls "enterprise solution technology," where a Canon DR detector can to be used in other systems.
"We have detector technology that allows us to go back to competitive systems and analog systems to upgrade at a fraction of the cost," says Bao Ho, director of sales and marketing at Canon.
For instance, if a facility bought a GE Healthcare mobile X-ray analog unit a few years ago, instead of sacrificing that investment, the Canon detector can merge with that analog system and upgrade it at a fraction of the cost.
While most large facilities have likely made the full transition to DR, conventional X-ray—and certainly CR—still have their place.
"I am still getting more requests for quotes for conventional rad rooms than DR; especially when they understand that they can upgrade to DR easily at a later date," says Pete Schliebner, president of Benchmark Imaging Group in Strongville, Ohio.
Dose management
Radiation safety and dose management have received increased attention over the past few years not just from inside the industry, but from policymakers and the general public as well. As of July 1, California law requires dose reporting for CT exams. According to Shawn McKenzie, CEO of Ascendian Healthcare Consulting based in Sacramento, and a speaker on the issue at AHRA's annual conference this summer in Orlando, Fla., "the legislation is spreading."
Other experts agree protecting patients from unnecessary dose has come to the forefront of regulatory agencies, patients and practitioners for CT and now X-ray too.
"New international standards for exposure and deviation index and dose structured reporting are moving fast," says Robert Fabrizio, director of marketing for digital X-ray and ultrasound at Fujifilm Medical Systems. "Hospitals are beginning to look for and value functionality geared around these coming new requirements as they look to comply and differentiate from their competition."