by
Carol Ko
, Staff Writer | February 15, 2013
From the January/February 2013 issue of HealthCare Business News magazine
According to Stephen Holloway, senior analyst at InMedica, the widespread adoption of PACs has played a significant role in DR's momentum in recent years: "A lot of uptake has been brought on by increased use of health care IT—integrating PACs with the X-ray system has brought gains for workflow in many facilities in DR. Paired with near-instant processing, that's the biggest factor we've seen."
Now, in response to growing demand from customers, CR vendors are offering solutions that meet somewhere in the middle, providing a way for customers to take advantage of the efficiency and throughput gained with DR by retrofitting their existing equipment with shared detectors for a fraction of the cost.
Laupper explains that Agfa is one such manufacturer: "What we offer is the choice to retrofit rooms by offering a detector that can work with any X-ray system out there - independent of the manufacturer - for very little capital investment." He notes that their retrofit NX workstation includes their proprietary MUSICA2 software, which optimizes image quality by automatically modulating image density and contrast.

For those who need to move fast and expand clinical capabilities -- and would love new equipment -- the uCT 550 Advance offers a new fully configured 80-slice CT in up to 2 weeks with routine maintenance and parts and Software Upgrades for Life™ included.

Holloway observes that with upgrade kits priced around the $60,000 to $80,000 range, retrofitting is an increasingly attractive option for cost-conscious facilities that might have been put off by high initial prices before: "Over the last three or four years, we've seen the prices of panels drop from 8 to 10 percent a year—with these panels applied to retrofit kits, we see big potential for future market growth."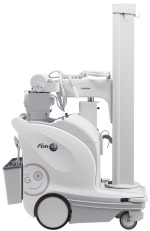 Updates and upgrades
As DR increasingly dominates the X-ray market, where is the technology headed next? In the near future, at least, customers can expect to have access to a wider range of DR detector sizes. Standard-sized 17 x 17 and 14 x 17 DR panels are not suited for certain specialized imaging exams. Broaddus gives one example: "In the neonatal intensive care unit, they're putting these microcatheters through the umbilical cord, and you don't want to move these neonates. With a smaller plate, you can put it under the table in a tray and the image can be immediately viewed by the physician on the portable monitor." Many manufacturers have either already added compact detector sizes to their product offerings or are in the process of releasing them.