by
Lauren Dubinsky
, Senior Reporter | April 09, 2014
From the April 2014 issue of HealthCare Business News magazine
Other than combining C-arms with ultrasounds, GE has explored other systems to connect them with. For the same C-arm, the company offers a wireless service platform feature that lets clinicians wirelessly transfer data to their PACS.
GE also coupled it with a compact communication and visualization and equipment management system called NuBoom M2. "It's a way to integrate some of the other devices in the OR into a package with the OEC Elite," says Snyder.

Quest Imaging Solutions provides all major brands of surgical c-arms (new and refurbished) and carries a large inventory for purchase or rent. With over 20 years in the medical equipment business we can help you fulfill your equipment needs

Right now, GE is the pioneer with this concept, but other companies including Philips Healthcare and Siemens Healthcare say they are considering it. "As we go forward, certainly, we're going to continue to look at different ways to increase the interoperability across the system," says Eric Hudson, senior field marketing manager of mobile surgery at Philips. "It behooves us to take advantage of that whenever we can—I would look to more of that in the future."
Going with the flow
Hospitals are always trying to improve their workflow and many new C-arms on the market have built-in features to do just that.
Motorization was originally only offered in fixed C-arms, but GE was the first company to bring it to mobile units. Ziehm Imaging claims that with its new Vision RFD Hybrid Edition mobile C-arm, it has taken things one step further.
It is the only mobile C-arm on the market that is full motorized in four axes—horizontal, vertical, orbital and rotational and in angulation.
Additionally, each position can be stored and then called up again at any time.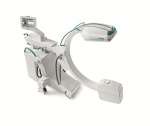 "It makes the workflow easier, that's at least what we experience and hope it will be globally," says Martin Herzmann, director of global marketing for Ziehm. Traditionally, a sterile surgeon has to tell an unsterile nurse the position to put the C-arm in, but with motorization in all four axes, the surgeon can control the system with a sterile touch screen and joystick that is mounted on the OR table.
The Ziehm C-arm is also equipped with a distance control system that prevents it from colliding with the patient or surgeon. There is a sensitive area around the lower edge of the FPD that detects the patient's anatomy and assists the surgeon to stop the C-arm before it touches the patient or anything else in the vicinity.