by
Sean Ruck
, Contributing Editor | August 27, 2019
From the August 2019 issue of HealthCare Business News magazine
You may have noticed with some of the images for this month's spotlight the story is a little different than usual.
This isn't the first hospital in our nearly 100 spotlights to be in the planning process, but there are a lot of unique aspects to this story. HCB News spoke with Dale Surowitz, CEO of Providence Tarzana Medical Center, to learn more of his background, the upcoming Providence Cedars-Sinai Tarzana Medical Center and what this development might mean for healthcare delivery in the future.
HCB News: What inspired you to pursue a career in healthcare?
Dale Surowitz:
I've always enjoyed healthcare. When I was between my junior and senior years in college, I was wondering whether I wanted to go to medical school or what else I wanted to do. I worked in two hospitals at that time and found that I really liked the business aspect of health and that inspired me to go into healthcare administration. Coincidently, those two hospitals — one in Encino and the other in Tarzana, 17 years later — I was the CEO of both of them. But my road was based on the fact of enjoying the mixing, being able to make a difference in the community from a healthcare perspective as well as a business perspective and being able to put that together in a challenging environment.
HCB News: How long have you been with Providence Tarzana Medical Center?
DS:
I became the CEO of what was formerly Encino-Tarzana Medical Center, in 1997. In 2008, Providence purchased the Tarzana Campus and we became Providence Tarzana Medical Center. In March 2019, we announced that Cedars-Sinai acquired a 49 percent ownership position in the hospital and later this year we will change the name to Providence Cedars-Sinai Tarzana Medical Center.
HBC News: The press release about the partnership between Cedars-Sinai and Providence St. Joseph Health to build Providence Cedars-Sinai Tarzana Medical Center was announced in March, but when did discussions first start?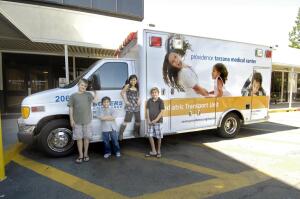 DS:
Rather than simply retrofitting our existing facility, we felt we needed to do something more significant in order to meet the future health needs of the communities we serve. In 2016, we developed a campus redevelopment plan titled Tarzana Reimagined, a $540 million project that involves replacing many of the buildings as well as replacing all of our adult and pediatric beds, creating all private rooms, and building an advanced medical center. In order to meet the needs of a changing healthcare environment, we felt we needed to find the right partner to join us as we looked to move more of our inpatient volume from traditional medical volume to more tertiary-focused surgical activity. Specifically, our focus was to increase our surgical activity from 22 percent of our total admission activity to 35 percent. Additionally, we wanted to focus on increasing our outpatient and ambulatory footprint outside of the hospital