by
Lisa Chamoff
, Contributing Reporter | November 18, 2019
From the November 2019 issue of HealthCare Business News magazine
"It allows a customer to upgrade their current technology if they're using film or CR," Hamman said. "Not only do they get the wireless detector technology and all of the workflow improvements, but they can also get a mini PACS option. It's a complete scheduling, image capture, archive and reporting solution."
The solution is targeted to smaller facilities and specialty practices that are looking for an affordable way to move to wireless DR technology

Carestream Health is a leading provider of quality X-ray systems and detectors that are designed to maximize diagnostic confidence, workflow and patient satisfaction. Follow the link above to see our complete portfolio of digital radiography solutions.

The company is also rolling out its new Image View software platform, which offers a single-screen workflow for improved productivity and will run on Windows 10, allowing for additional security improvements.
"The Image View platform has an updated architecture and will allow for the support of advanced applications," Hamman said.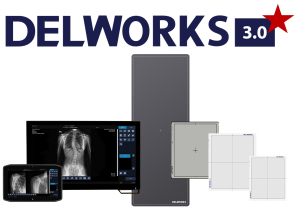 Del Medical
Del Medical recently launched a new detector, DELWORKS LLI, that the company says is the first full monolithic flat panel detector available in the world.
"It requires no stitching software to create a full-length image," said Mandy Gutierrez, product marketing manager for UMG/Del Medical. "You can do a complete spine or hip to ankle in one exposure and the image displays in nine seconds, which is twice as fast as the multi-detector configurations. It eliminates issues that exist with stitching methods, like image misalignment or motion artifacts"
The 17-inch-by-42-inch detector is also more portable, wired or wireless, and can be used upright or supine, or in the OR.
"It's for any imaging department that wants to lower X-ray dose, increase throughput and reduce exam time, with one exposure, versus up to five with other methods," Gutierrez said.
In August, the company released its DELWORKS 3.0 software, which includes the Windows 10 operating system, with enhanced security and data encryption, improved image processing and performance and the addition of enhanced image processing for lines and tubes. The software is compatible with five different detectors, including the new DELWORKS LLI 17-inch by-42-inch detector.
Fujifilm
In October, Fujifilm applied for FDA clearance for the FDR D-EVO III, what it says is the world's first glass-free DR detector.
The detector uses film layers as its circuitry layer.