by
Lisa Chamoff
, Contributing Reporter | November 18, 2019
From the November 2019 issue of HealthCare Business News magazine
The X1 elevating table can be lowered to the ground for easier access while accommodating patients with large girths having 31.5 inches of aperture between the tabletop and the deck, which Serrao believes is the largest in the industry.
Additionally, a new Konica Minolta technology called Dynamic Digital Radiography, or DDR, is an advanced application for use on the RADspeed Pro radiography room system and is ideal for imaging pneumothorax and various chest functions.

KA Imaging's Reveal 35C detector, currently available as an upgrade solution in the US and selected geographies, can now be sold in the European Union. The detector recently obtained the CE Mark. Contact us at sales@kaimaging.com to book a free demo.

"DDR is a fast first-line test that combines anatomic and functional information generated by the rapid acquisition of a series of radiographs reconstructed from algorithms outputting a variety of metrics to help clinicians make informed decisions," said Charles Cassudakis, rad and RF director at Shimadzu.
"Partnering with Konica Minolta to develop and distribute the DDR system proved to be the ideal scenario because of Konica Minolta's film technology background," Serrao said.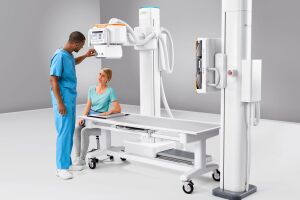 Siemens Healthineers
In January, the FDA cleared the Multix Impact, a floor-mounted DR system from Siemens Healthineers for cost-conscious facilities.
It features a touchscreen user interface to allow the technologist to stay with the patient for longer periods of time, with avatars and job aids to help technologists if they come across an exam they haven't seen before.
There is also a flat, free-floating tabletop for easier patient access and tube tracking between the detector and X-ray tube.
"You typically only see this on high-end units," says Joseph D'Antonio, senior director of product management and marketing for X-ray products and women's health at Siemens Healthineers North America.
In March, the FDA cleared the Mobilett Elara Max, which runs on a Windows 10 platform for more hardened cybersecurity, 180-degree lateral arm movement and a virtual workstation for access to a PACS and RIS system during an exam, so the technologist can sign off on the exam in the field.
"You can see the patient record on the screen of the mobile device," D'Antonio said.
Swissray
At this year's RSNA, Swissray will be showing the ddRAura S, a motorized straight arm that can be used with a variety of tubes and detectors.