by
Lisa Chamoff
, Contributing Reporter | November 18, 2019
From the November 2019 issue of HealthCare Business News magazine
Manufacturers in the radiography market have had an eye on clinician and patient satisfaction, focusing on features such as improved workflow and image quality, as well as advanced features such as digital X-ray tomosynthesis.
Meanwhile, detectors continue to get lighter and more easily maneuverable.
Here's a look at what's new.

KA Imaging's Reveal 35C detector, currently available as an upgrade solution in the US and selected geographies, can now be sold in the European Union. The detector recently obtained the CE Mark. Contact us at sales@kaimaging.com to book a free demo.

Agfa
In February Agfa received FDA approval for the latest version of its DR 800 system.The multipurpose imager will equip providers with one solution for radiography, fluoroscopy, multi-slice and advanced clinical applications. It also extends Agfa's capabilities from 2D single-plane imaging to include the use of tomosynthesis for synthesizing multi-slice imaging reconstruction from a single tomographic sweep.
"The DR 800 has already been supporting imaging departments to meet today's growing demand for versatility, without requiring multiple investments," said Louis Kuitenbrouwer, vice president of Agfa's imaging division, at that time. "With the FDA 510(k) clearance for tomosynthesis, the DR 800 supports best-in-class multi-slice imaging, using algorithms that reconstruct images very quickly."
Providing iterative reconstruction, the algorithms enable faster image delivery with less noise and fewer artifacts.
Aspenstate
In January, Aspenstate began marketing its Aspen XDR straight arm digital radiography system, an entry-level X-ray room designed for the urgent care market.
When placed horizontally for a chest exam, at a 72-inch source to image distance, the straight arm measures 79 inches from end to end.
"It's really economical solution for the urgent care market," said Rob Scorcia, vice president of business development at Aspenstate.
Also new to the market is the AspenFDR, a compact floor-mounted X-ray room with auto tracking for high volume patient throughput, offered with both four- and six-way tables. It's designed for hospitals and orthopedic practices.
"It has a modern and sleek design that saves space," Scorcia said.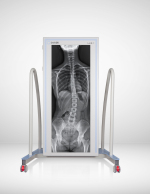 Canon Medical Systems
The latest version of Canon's Image processing software, CXDI Control Software NE, provides functionality for multi-touch monitors that enable touchscreen operations instead of a keyboard or mouse. Users can also benefit from the ID card login capability that uses near field communication technology.