by
John W. Mitchell
, Senior Correspondent | February 09, 2021
From the January/February 2021 issue of HealthCare Business News magazine
Read the Hospital Spotlight column every month in this magazine and you will learn much about individual hospital operations from senior leaders on the frontline in achieving good outcomes, safety, and cost-efficiency.
But review these leaders as a group, and a roadmap of the most pressing issues emerges.
The pandemic
As the year wore on, it's no surprise the pandemic began to consume more and more of hospital administrators' bandwidth.
Despite the widely publicized stress that the pandemic has wrought on hospitals and health systems, Rochelle Johnson, director of nursing, Birth Center at Regions Hospital, told us in October that they still rely on their core values in responding to the crisis. Johnson, who helped design the birthing operation from the ground up, cited Region's values as commitment to high-quality care, family-centered care, and health equity.
"COVID has thrown all of healthcare for a loop," she said. "We've had to change a lot of the practices we've had. I believe we've been able to hold onto our values at our birth center."
She said that they have had to be "thoughtful and innovative" in how they live by their values. For example, in the multicultural population they serve, it's vital to their patients and their families that they still allow others into the birthing room. By adopting new technology (in part funded through the health systems foundation) such as tablet computers and applications, and working through their community partnerships, they could still accommodate one to two people in birthing rooms, despite COVID-19. They are also conducting many post-partum follow-up visits remotely.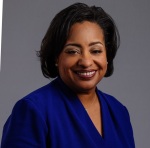 Vanessa Roshell-Stacks, former vice president, Care Coordination, Clinical Documentation, and Hospital Operations at Rush University Medical Center, reported in our Nov/Dec issue that their early investment and focus on outreach patient data analytics paid off. It has helped monitor re-admission rates among COVID-19 patients.