by
Carol Ko
, Staff Writer | February 12, 2013
From the January/February 2013 issue of HealthCare Business News magazine
General wear and tear is especially an issue for mobile X-ray service companies that transport their machines back and forth via vehicle to non-hospital settings, such as nursing homes and rehabilitation centers. During flu season, when elderly patients are especially susceptible to respiratory illness, these companies may make up to 12 to 14 trips a day to different facilities. In such conditions, imaging equipment must have lasting durability. "If you bring a fragile product to our market, it shows its ugly head pretty quickly," says Jerry Palmese, director of sales and marketing at Source-Ray. "In a hospital setting, a brand new DR panel stays within the room in ideal conditions—it isn't exposed to inclement weather conditions or daily vehicle trips. In the market we serve, that's not the case."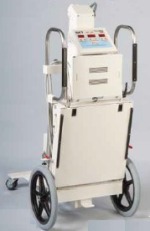 Changes Ahead
The last year and a half has seen the entrance of several players hoping to break into the flat panel detector market, resulting in prices that put these devices within reach for smaller facilities with limited resources. A few of these flat panel detectors are even competitive in price with some CR devices. "The ones from China and Korea – they are priced quite low – down in the high 30s and 40s," Walsh notes.
According to Source-Ray's Palmese, newer flat panel detectors from little-known brands start with a disadvantage: they don't have an established install base in the U.S. market. Cheap flat panel detectors may seem like a better option at the outset, he says, but if they break from normal use after a few months, they could ultimately cost more than a pricier model.

Carestream Health is a leading provider of quality X-ray systems and detectors that are designed to maximize diagnostic confidence, workflow and patient satisfaction. Follow the link above to see our complete portfolio of digital radiography solutions.

Fabrizio agrees. "Basically with all of the companies making DR panels, there's more and more competition, and with hospital budgets being very tight, sometimes decisions are being made more on financial reasons than on image quality and dose, unfortunately."
But even pricing on panels from major OEMs has dropped drastically, according to Walsh. "Prices on high quality panels have dropped 50 to 60 percent from even two years ago," he says. Detectors that cost around $100,000 only a short while ago have dipped down to $50,000.