by
Carol Ko
, Staff Writer | February 12, 2013
From the January/February 2013 issue of HealthCare Business News magazine
Portable X-rays may be cost-effective in more ways than one -- just ask Boca Raton Regional Hospital. The facility's choice of portable system was instrumental in securing a contract with the local university's athletic program. "We stated we could provide on-site X-ray imaging with instant image viewing for physicians on the field during the football games, "says Gail McNamara, director for inpatient imaging services at Boca Raton Hospital.
Using X-rays on-site was a luxury formerly reserved for NFL stadiums with a dedicated X-ray room. Now, thanks to advances in generator power and functionality, that option is available to college teams as well.
Indeed, portable X-rays are designed to go where the action is. Their widely used settings are as varied as veterinary facilities, coroner's offices, nursing homes, prisons, sports arenas and, of course, hospitals. They also vary widely in size, weight, functionality and options − from handheld devices to standalone units, from battery-powered to line-powered, weighing anywhere from 5.5 pounds to 150 pounds.

Carestream Health is a leading provider of quality X-ray systems and detectors that are designed to maximize diagnostic confidence, workflow and patient satisfaction. Follow the link above to see our complete portfolio of digital radiography solutions.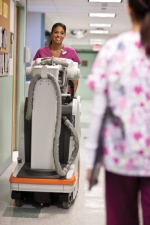 Bedside manner
In the past, obtaining clear X-ray images of patients in critical care units was logistically difficult and time-consuming, which meant, that the sickest patients often received the worst quality X-rays. In recent years, manufacturers have addressed these challenges by releasing smaller, sleeker models that push the envelope on improved speed and efficiency. For instance, Shimadzu's MobileDaRt Evolution includes a three-second image display that allows physicians to image critically ill patients faster. Meanwhile, GE Healthcare introduced a hybrid detector platform for its portable Optima XR220amx, introduced in late 2011, which puts imaging data on a dedicated short-range wireless network to avoid cluttering hospital wireless networks.
As manufacturers continue to raise the bar, more and more hospitals are taking advantage of the bedside imaging capabilities portable machines provide. According to a recent study by health care equipment research firm KLAS, portable X-ray units are seeing significant jumps in usage for hospitals in the emergency department, ICU/NICU and OR. In some instances, EDs have increased their mobile X-ray usage by 100 percent, and ICUs by 89 percent and ORs by 60 percent. KLAS also surveyed customers to assess vendor performance using various product criteria, and their respondents gave Shimadzu, Canon and Fujifilm the three highest scores.