by
Carol Ko
, Staff Writer | July 05, 2013
From the July 2013 issue of HealthCare Business News magazine
GE's Somo-V ABUS (automated breast ultrasound) system is currently the only product on the market cleared for sale by the FDA specifically for screening women with dense breasts.
"Certainly 3-D ultrasound is an algorithmic shift — we have a solution for risk based and personalized screening for women who have dense breast tissue — that's really a wonderful thing," says Dr. Rachel Brem, professor of radiology at George Washington University.

For those who need to move fast and expand clinical capabilities -- and would love new equipment -- the uCT 550 Advance offers a new fully configured 80-slice CT in up to 2 weeks with routine maintenance and parts and Software Upgrades for Life™ included.

One of the major advantages of the technology is that it's specifically adept at identifying invasive node negative breast cancers while mostly ignoring a harmless slow-growing form of cancer called DCIS. With its automated scanning transducer, the system is designed to eliminate or at least drastically reduce operator variability.
And unlike high-cost modalities such as breast MR, ultrasound is relatively inexpensive and also takes less time to perform than an MR scan.
"If you're talking about screening large volumes of patients you have to have a study that can be feasible," says Dr. Jessie Jacob, VP of medical affairs for U-Systems, an ultrasound company that was acquired by GE Healthcare last fall. And ultrasound, which can be operated by trained technologists, may also be a more feasible option in the face of ongoing shortages of radiologists and physicians.
"I think it's promising, but I would approach it with apprehension and would like to have more studies performed on it," says Dr. Jennifer Drukteinis, director of breast imaging research at Moffitt Cancer Center.
Screened stiff
Another emerging ultrasound technology for breast cancer screening attracting considerable interest is elastography. Elastography is used to measure tissue stiffness to help physicians distinguish stiffer tissue indicative of malignant tumors from softer, healthy surrounding tissues.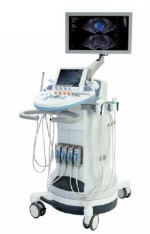 Of the products in the works, SuperSonic Imagine's ShearWave technology shows particular clinical promise. Unlike traditional strain elastography, it relies on a platform borrowed from a video game system to capture images rapidly and measure tissue stiffness without manual compression. This means the system is less operator-dependent, producing more reliable results.
Larger OEMs are taking notice, too. Siemens Healthcare has thrown its hat into the elastography ring, announcing in June the FDA clearance of its own new elastography imaging system designed to improve upon existing manual compression techniques.