by
Nancy Ryerson
, Staff Writer | November 16, 2012
From the November 2012 issue of HealthCare Business News magazine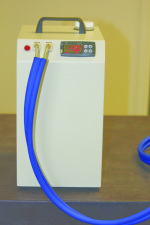 Besides MRI and CT cooling, customized chillers can serve other, smaller-scale purposes. CustomChill, a manufacturer of 20-pound and smaller chillers, provides chillers that cool skin before laser surgery and act as high-tech ice packs on joints.
"For us, a lot of customers look for chillers that are lightweight and create little noise, and we work to build chillers to fit that," says Solomon Reznik, vice president of Custom- Chill.

MIT labs, experts in Multi-Vendor component level repair of: MRI Coils, RF amplifiers, Gradient Amplifiers Contrast Media Injectors. System repairs, sub-assembly repairs, component level repairs, refurbish/calibrate. info@mitlabsusa.com/+1 (305) 470-8013

Green goes mainstream
The chillers sector has become more eco-friendly over the past several years, and manufacturers say the trend is here to stay.
"More and more companies and hospitals are going green," says Bernard. "It's standard protocol to request our designs' energy usage, efficiencies and reliability when requesting a proposal."
Customers have become so green-savvy that their requests can sometimes be challenging or even impossible to meet, Bernard says. "While customers would like to go without substances such as antifreeze altogether, that's not feasible in most instances," she says. However, Dimplex Thermal Solutions recommends propylene glycol use in their chillers, which is a safer, easier to use product gradually replacing the more toxic ethylene glycol.
Energy efficiency has also become an expectation. In fact, many municipalities now mandate energy efficiency standards on cooling equipment, manufacturers say. "We are using more efficient motors that consume less power, but that's more of an industry standard – it's not something special to us," says Cold Shot Chillers' Mike Marrone.
Haskris and Dimplex Thermal Solutions both offer chillers with variable speeds that adjust depending on the workload. Johnson Thermal System units come standard with energy efficient features such as digital scroll compressors, variable speed condenser fans and electronic expansion valves.
For CustomChill, the use of refrigerants and other toxic chemicals was not a concern because its equipment is electronic, but the company has still made improvements in reducing weight and energy consumption. "We're constantly working on that," says Reznik.