by
Nancy Ryerson
, Staff Writer | November 16, 2012
From the November 2012 issue of HealthCare Business News magazine
Important, but not yet earth-shaking, regulations
Like eco-friendly equipment, certain regulations have also become a part of many chiller manufacturers' day-to-day dealings, especially regarding the seismic requirements set up by the Office of Statewide Health Planning & Development in California.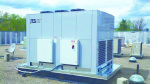 "It's not what I would call a big topic, but I would say it is becoming more and more prevalent," says Johnson of Johnson Thermal Systems. California has had the same standards since 2000, but now manufacturers say other states have started to look at increasing seismic requirements, especially in light of recent East Coast earthquakes and seismic events in other parts of the country.

MIT labs, experts in Multi-Vendor component level repair of: MRI Coils, RF amplifiers, Gradient Amplifiers Contrast Media Injectors. System repairs, sub-assembly repairs, component level repairs, refurbish/calibrate. info@mitlabsusa.com/+1 (305) 470-8013

To become OSHPD certified, a so-called "shake table" is used to test the response of chillers to verify their seismic performance, and it does exactly what it sounds like: shakes the chiller with a wide range of simulated ground motions, similar to recorded earthquakes.
"It requires a robust frame and cabinet design to sustain the chiller integrity during and after the event," says Bernard. "To pass these tests, the chiller must continue to be fully functional after the test is completed."
The requirements are meant to protect the public from the risk of equipment falling from rooftops or expelling toxic refrigerants during a quake.
Efficiency up, size down
While more powerful chillers are perfect for cooling down increasingly robust equipment, the space they take up can be a problem for hospitals and imaging centers. Because of that challenge, manufacturers are starting to see a move towards smaller chillers that still pack the same cooling power.
"A big factor is trying to keep the footprint and size of the chiller as compact as possible, because hospitals need to prioritize space usage," says Bernard. "If you can get to a point where you are using smaller components that give you the same cooling, that's always important to do."
In order to become more efficient, chillers' condenser coils need to be larger, Marrone of Cold Shot Chillers explains. "The challenge is to build machines with the larger coils within a smaller footprint," he says.