I typically walk in a spiral pattern from the outside to the inside hoping to see more disruptive or at least novel weird product offerings on the outside. The more you make it to the middle part the more you reach the big business and realistic business models. Disruption always comes with new and unpredictable business models. The large companies and their customers need to maintain these existing setups and workflows as long as possible. Absolutely understood! But they also need to rethink on whether the global health can continue with the same understanding in the future. Diagnostic imaging for sure needs to become better, but these incremental innovations should not only be benefitting the hospital or the radiologist, but also the patient globally.
I do not really recall when the first MR-PET / PET-MR systems were shown at RSNA, but these type of systems combining modalities that only provide benefits for a very small population, but carry a huge price tag have not really been successful offerings. The same - in my opinion - is true for MR-LINAC or other very complex and expensive systems. There will be a market for those in few central locations, but unlikely will become mainstream or standard of care. And I believe that this is good that way!
Having said this you see a clear shift - across all the major OEM - from previously showing almost exclusively hardware to now become diagnostic solution enablers and workflow improvers with their software and AI offerings. All of that was to be expected and a foreseeable and necessary development. This software focus will extend in the near future and be combined with wearables or other sensor devices that will provide health data input towards more predictive, personalised, and preventive health offerings.
Software, health data and analytics will work together with these sensors … and lets face it a lab report, genetic information, an ultrasound, or a MRI image are such sensors that need to be evaluated in a combined fashion for a really comprehensive diagnosis.
I am sure that the input and guidance from a real human doctor will change, but become more individual and with that even more important.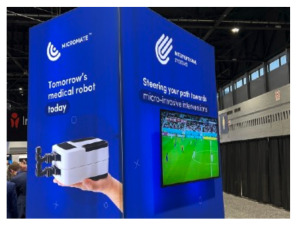 The soccer world championship was omnipresent — TV monitors everywhere … on the booth spaces as well as in official RSNA meeting spaces.