By Michael Friebe

EMPOWERING PATIENTS AND PARTNERS IN CARE — great slogan … and happens to be also close to the subtitle of my new book that should be available this week as well … apologies for starting off with a personal advertisement. But as you know readers typically remember the beginning and the end of an article …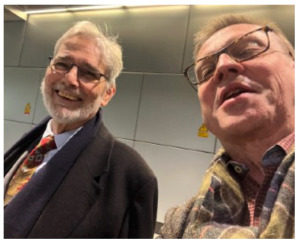 LH 430 on Saturday from Frankfurt was packed with RSNA attendees. On the way to the gate I met Andreas Martin from RADPRAX in Wuppertal, who will stop his active role at the end of the year. Impressive person and impressive knowledge and foresight! He - together with his partner in crime Heiner Steffens, who I met later at the show as well - were my first ever mobile MRI customer (Diasonics / Toshiba 0.35T - who remembers that one?) in 1994. What a setup that was with a several hundred meter long power cable across the river on the parking lot of the opera. Wish you all the best for your retirement and thanks for all the encounters over the last almost 30 years.
And just like last year … pretty nice weather (exception Sunday Morning) and decent temperatures without the need for heavy coat, gloves or hat. Immigration used to have the terminals … gone! But still took only about 10 minutes to clear everything and off I went to the train station taking the BLUE LINE downtown (USD 5 one way). I did not feel to well on the first day though and went to a Walgreen to buy supplies … this and 11 hours of sleep helped significantly (best sleep ever after a transatlantic flight) to recover and be ready for the show.
Had to smile when I arrived at McCormick when I saw the UNITED IMAGING banner announcing that they are here. Last year I was shocked about their non-presence and mentioned that in my report. I am quite aware that my comments did not cause this banner, but also shows that I apparently was not the only one that thought that it was a bad idea to drop RSNA 2021. But despite the impression of this banner they had no real booth - just a meeting space. No further comments!