From the December 2013 issue of HealthCare Business News magazine
Emanuel is vice provost for global initiatives, chair of the department of medical ethics and health policy and Diane and Robert Levy University Professor at both the Perelman School of Medicine and the Wharton School at the University of Pennsylvania, where he recently developed a new Master of Science program in medical ethics.
Emanuel recently announced the creation of the Penn Neurodegenerative Disease Ethics and Policy Program, which will support research, education, and training for identifying and addressing ethical and policy implications for the diagnosis and treatment of Alzheimer's disease and Parkinson's disease.
He previously served in the White House as health policy advisor to the director of the Office of Management and Budget.
In addition to his work as a physician and professor, Dr. Emanuel has written and edited nine books and more than 200 scientific articles about the ethics of clinical research, health care reform, end-of-life issues, euthanasia, and managed care. His publications include The Oxford Textbook of Clinical Research Ethics and The Ends of Human Life, a book on medical ethics which received honorable mention for the Woodrow Wilson Foundation's Rosenhaupt Memorial Book Award.
AMA
Benjamin Rush Award for Citizenship and Community Service
The award recognizes a physician who has gone above and beyond their professional call of duty to make an outstanding public service contribution to their local community.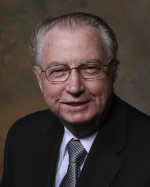 This year, the award was presented to Kenneth L. Mattox, M.D., a Houston thoracic surgeon.
Mattox was chosen by the AMA for the award due to his exemplary service in the medical response to several natural disasters, including Tropical Storm Allison in 2001 and Hurricanes Katrina and Rita in 2005. As part of the Katrina Joint Unified Command, Dr. Mattox helped form an "evacuation city" to house, treat, clothe and feed 27,000 evacuees from New Orleans in only 18 hours.
Mattox is currently a distinguished service professor at Baylor College of Medicine and is chief of staff and surgeon-in-chief at Ben Taub Hospital in Houston, where he has worked since 1973. As an innovator in trauma care, Dr. Mattox has won numerous awards and honors for his work including the AMA Physician Recognition Award in 1972 and 1993.