From the December 2013 issue of HealthCare Business News magazine
Mohan has shared his expertise by serving on ASTRO committees and on the editorial team of the International Journal of Radiation Oncology • Biology • Physics (Red Journal), the official scientific journal of ASTRO. He was the Red Journal's physics senior editor and has been a reviewer for the Red Journal since 1995. As a member of ASTRO's Annual Meeting Scientific Program Committee, the Radiation Physics Committee and the Physics Resource Panel, Dr. Mohan has provided valuable perspective and leadership to the Society. "It is a great honor and highly gratifying to be recognized by the radiation oncology community for my work as a physicist," said Dr. Mohan, a professor and the Larry and Pat McNeil Chair in Cancer Research in the department of radiation physics of the Division of Radiation Oncology at The University of Texas MD Anderson Cancer Center.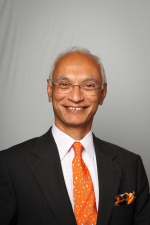 Prabhakar Tripuraneni, MD, FASTRO
A 30-year ASTRO member and former ASTRO chairman, Tripuraneni, a radiation oncologist, has impacted the clinical aspect of radiation oncology through his insights in vascular brachytherapy.
Tripuraneni helped develop the methodology, dosimetry and dose prescription for endovascular brachytherapy to avoid coronary restenosis. Tripuraneni and colleagues also pioneered techniques to irradiate the stent to prevent tissue from growing and blocking it again. This technique was published in 1997 in The New England Journal of Medicine.
Tripuraneni has played an integral role in expanding ASTRO's services and support to its members and the radiation oncology field. He was a key player in creating the ASTRO Fellows designation, which honors active ASTRO membership of at least 15 years and commendable service to ASTRO and the field of radiation oncology; in organizing Integrating the Healthcare Environment-Radiation Oncology, an initiative that works to improve the sharing of information among the various computer systems and software utilized in radiation oncology practices; and in providing guidance and leadership for ASTRO's new practice accreditation program. His additional efforts included launching the initial ASTRO.org website; serving as editor of ASTROnews, the Society's quarterly member magazine; launching the first Radiation Oncology Inter-Society meeting; and organizing the first eContouring sessions at ASTRO's Annual Meeting.